Introductions
Nick Culbertson is another "ten year overnight success" story. It takes hard work to make a successful app. Most times success requires working on things less glamorous to secure the time to pursue what you really want. This is Nick's story.
Here are key points/questions you'll want reflect on while reading this entry:
Any one can become a developer with enough hard work and persistence.
How are you participating in the greater game dev/tech community?
Outside of cold calls/emails, what attempts have you made to get in contact with people that can help you? Have you met any in person?
What plans do you have in place to move to independent development full time? Are you saving money? Do you have a realistic timeline?
My book is referenced is the entry here is a free download of it.
If you can afford to throw me a hat tip here's a link with a hefty discount.
Nick and Epic Orchestra's Journey
Epic Orchestra is a swipe-based rhythm game that was featured on the Apple TV App Store and went on to land in the "Essential Games" category. This post outlines a) how it got featured using an unconventional method and b) what the feature meant in terms of downloads and revenue.
Background
I started making apps 6 years ago after my wife bought me the first generation iPad. At the time, I was living in Nashville serving tables and playing country guitar gigs. In my spare time, I started learning to make apps from watching YouTube videos and combing through random Google search results. Fast forward 6 years, and I'm living in Dallas as a full-time indie developer with over 100 apps released for iOS and Android, mostly in the Music category (the apps are assorted genre based radio streaming apps and musical instrument apps).
When Apple TV announced that they were going to have an App Store, I was eager to start making games for the tv. I'm a child of the 80's and grew up on Nintendo, so the idea of making games for a home console was awesome! I wanted to make something designed specifically for Apple TV like the retro games that captured my imagination as a kid. With my other apps earning revenue in the App Store, I was able to take the time to pursue a passion project.
I had the idea of creating Epic Orchestra to combine my two passions: music and retro games. With the Siri Remote it was only natural to make a swipe or tap game. The project quickly ballooned as I added more levels and powers-ups. The project took 7 months, and by the end, I had created a game that I was proud of with 15 levels and an entire classical music album. Here is the preview video, if you'd like to see it in action.
How I Got Featured By Apple
I'd like to add a little context. I'm an indie developer and every article I have read on getting featured as an indie says to make a great app, email appstorepromotions@apple.com, and hope for the best. While I think everyone should try this, I don't think it is the whole picture. I think the majority of apps that are featured on the App Store, are through direct contact with Apple. I highly doubt that companies like Marvel and Rovio are using the "appstorepromotion" email to get featured time and time again. The reason I am sharing my story is that I've never read an article that demonstrates an indie getting featured the unofficial way. So in the spirit of full transparency, this is what happened.
My road to getting featured was an unconventional one. In the first month of development I demoed the app at an Apple TV Tech Talk in Austin, TX. I just revisited that build and boy has it changed. Here is a before and after shot.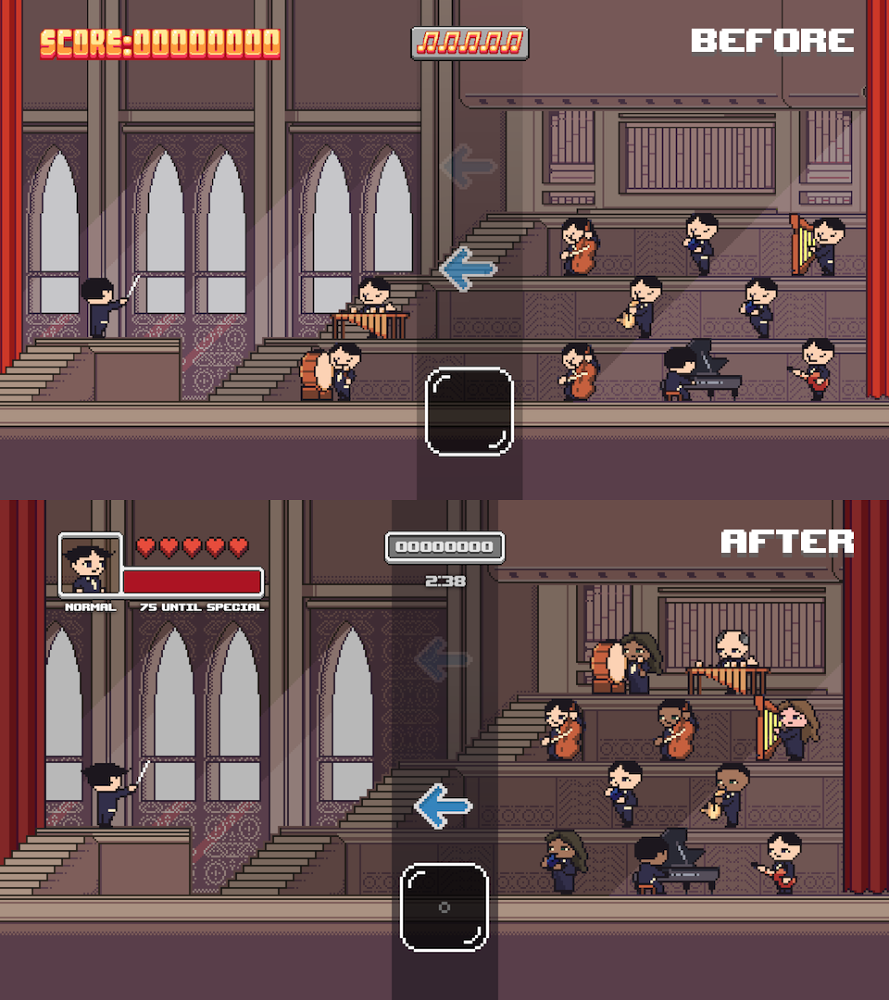 While at the Tech Talk, I showed an early version of my game to anyone that would listen. I setup in the demo lab and people seemed to really enjoy it. I took into account everyone's feedback and many months later when the app was three weeks from release, I emailed those contacts to see if they could help. In those emails I reminded the recipient of our meeting at the conference, I thanked them for their feedback, and I mentioned how I improved the app by implementing their suggestions. Here is one specific example of me addressing feedback:
At the event, you had very useful feedback on using the Micro Gamepad extension to tighten the swipe controls and making the musicians in the orchestra more consequential. Based on your feedback, I tweaked the control to feel ultra-responsive and now the orchestra disappears as the player misses notes.
I wrapped up those messages by saying
I'll be emailing appstorepromotion@apple.com today for potential featured placement. If you know of anyone else that might be interested in hearing about the app, please feel free to pass the info along.
In addition to emailing the people I met at the Tech Talk, I also sent an email to appstorepromotion@apple.com, and I followed Amir Rajan's book, and the chapter on how to write a pitch email for getting featured. Here is the link to the Reddit post he did on this, it is the most detailed roadmap I've found.
I didn't receive an message saying I would be featured, but I did get an email requesting promo art about a week before the scheduled launch date. On the launch date, I opened the App Store to find a banner feature for Epic Orchestra!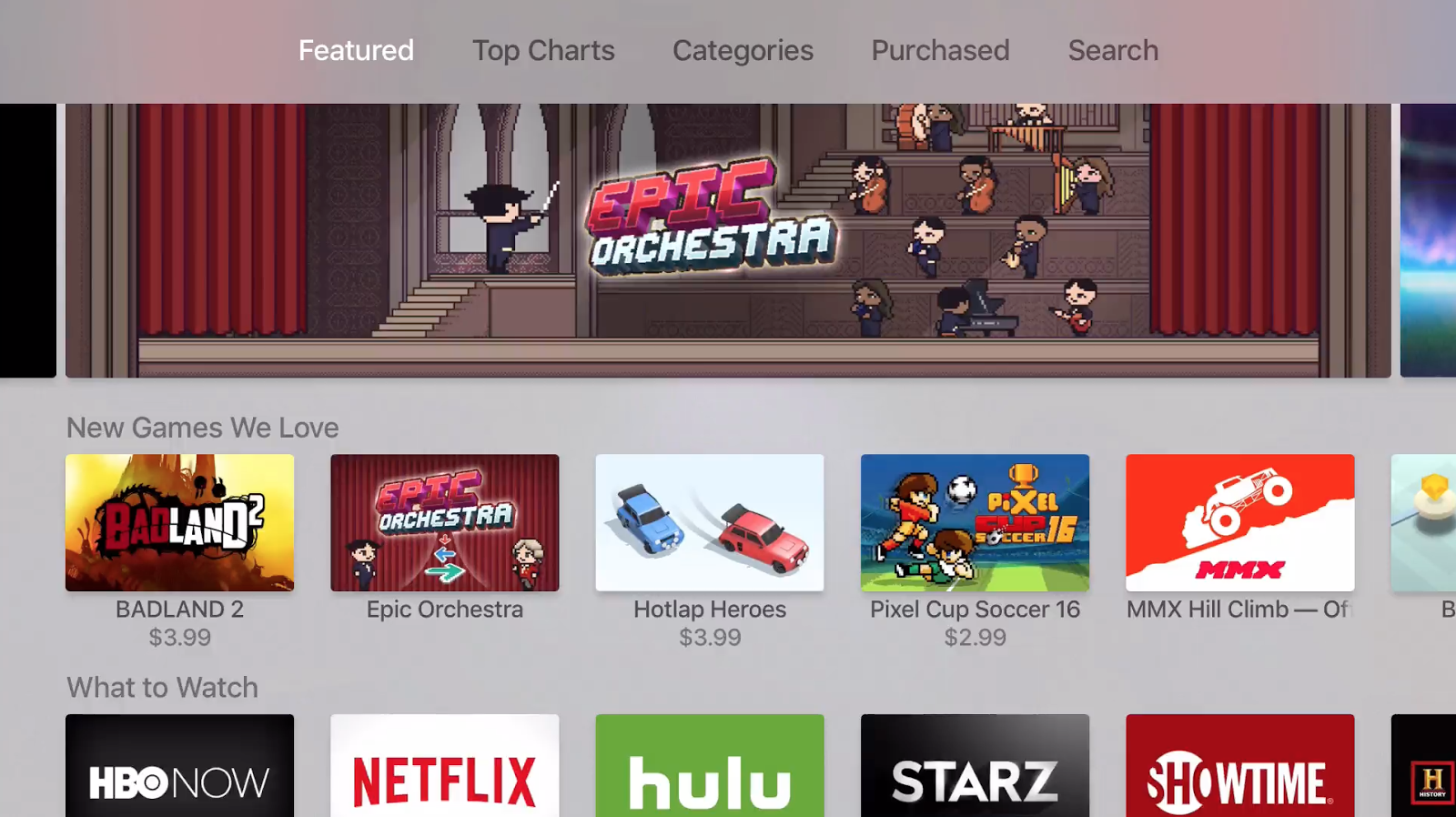 It also landed in the "Essential Games" category a few weeks later.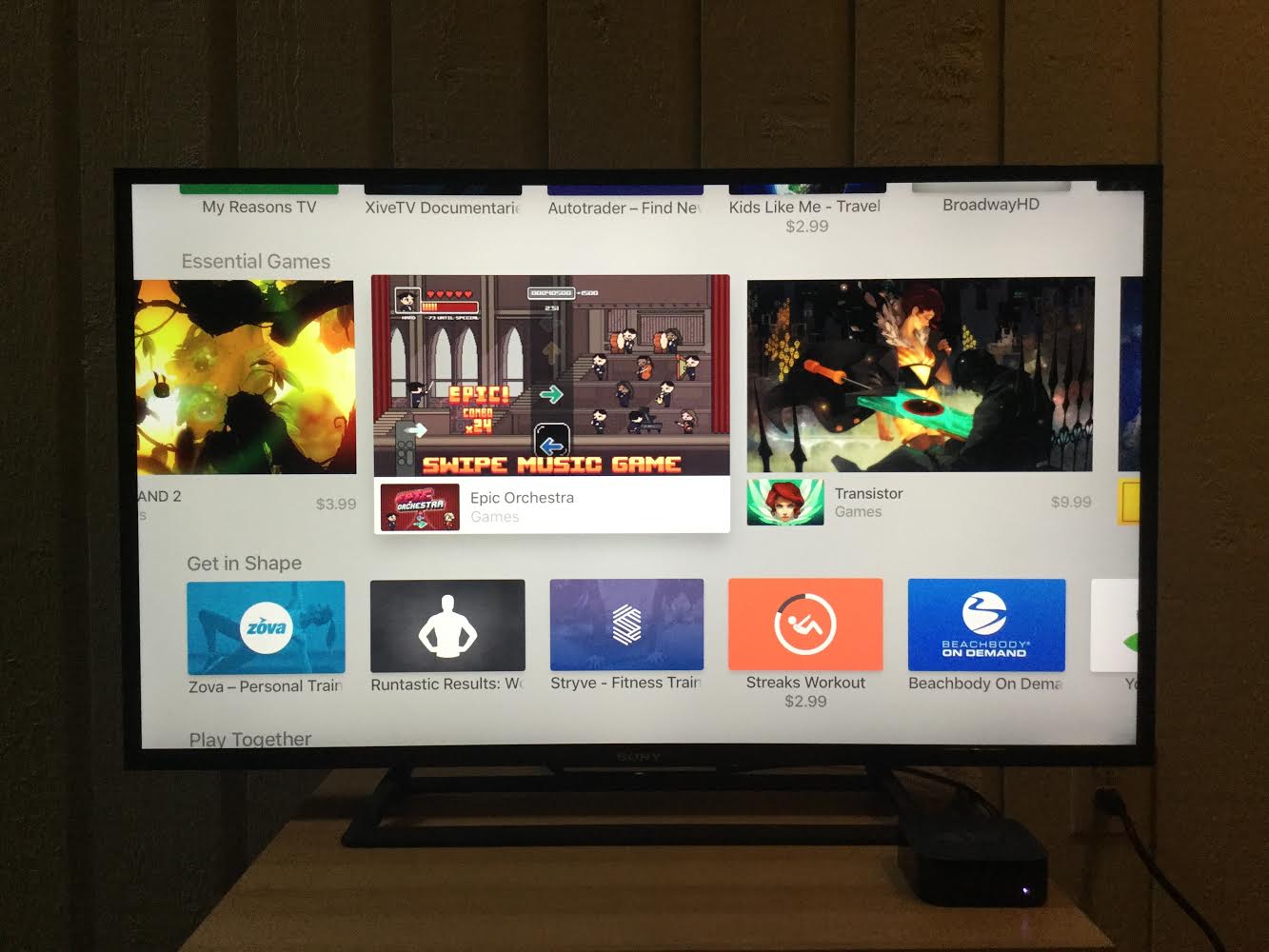 The best part about the feature for me was that it meant more people would be able to experience Epic Orchestra. I would have been happy with the project even if it hadn't been featured, and honestly, I didn't expect it would be. When you create something that is a true expression of yourself, it is a win/win regardless of the outcome. A fellow Dallas developer, Michael Perry, equated development to playing the guitar.
You don't play the guitar because you want to get rich. You play the guitar because you love playing the guitar.
Download Numbers and Revenue
Here are the downloads stats from June 7th - Sept. 4th.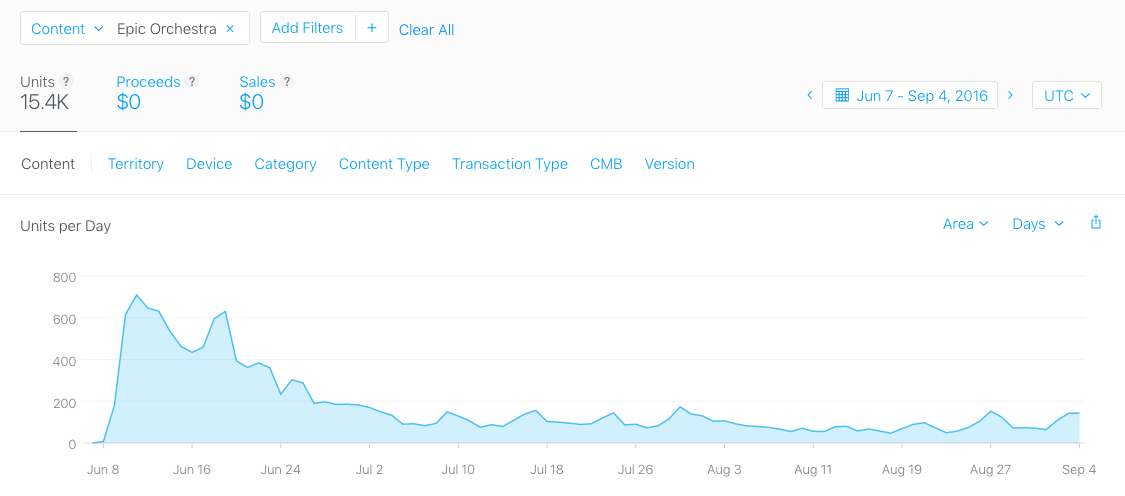 Graph Observations
Day one downloads for the feature were about 700
Total downloads for the time period was 15.4K
A feature's "tail" will last about 10 days.
Download averaged about one hundred a day after the feature was over.
And these charts are the rest of the analytics from that time frame including IAP revenue.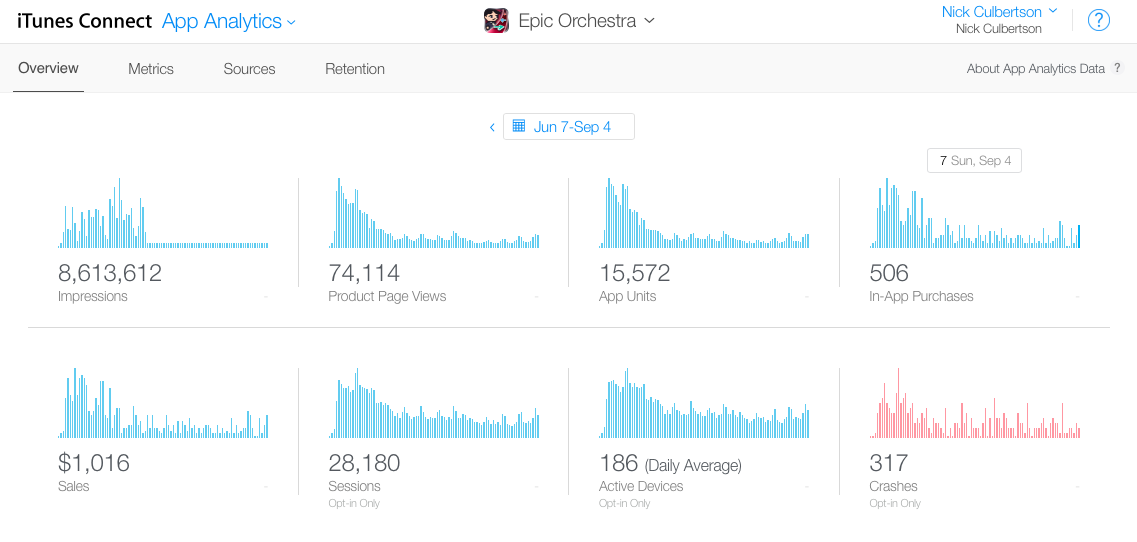 Graph Observations
Revenue during the month was a little over $1K.
Conversion rate for IAP was 6% (2% to 10% is usually the range).
There is a 1% converstion rate between a banner impression and someone checking out your app page.
There is a 20% converstion rate for app download once someone visits your app page.
I wasn't sure what to expect since the Apple TV is still such a new platform. In the 3 month period, it got 15k downloads and grossed $1k in in-app purchase sales. I think these numbers are pretty good given the Apple TV had only been out for 7 months at that point. Also my title was a niche. Like most apps, it had a spike then a steady tail. I think the "Impressions" figure is misleading because it counted everyone that visited the Apple TV App Store while the app was on the front page. At least that is my hypothesis.
Although Apple TV doesn't allow for typed user reviews on the App Store, I did receive some messages that really made me feel like the experience was resonating.
What Now?
Since the release of the app on Apple TV in June, I've been working tirelessly on the port to iOS. Shrinking a pixel art game from the big screen to the small screen has had some unique challenges, but alas, version one is complete and patiently awaiting it's release date.
On October 26th, Epic Orchestra comes to iOS. I'll find out that Thursday when the App Store refreshes if it made the feature cut. Even if it doesn't, I'm grateful for having had the opportunity to work on something that represents my interests. While getting featured on Apple TV isn't an easy task, it does seem that way in comparison to getting featured on the iOS App Store.
I'll do a follow up with Nick after a month on the iPhone and see how it compares to what he experienced on Apple TV.
---
---