Media Coverage
Paste Magazine, Maddy Myers: Top 20 Indie Games of 2013
Forbes, Daniel Nye Griffiths: Top 5 Anti-Games of 2013
Giant Bomb, Zoe Quinn: Top 10 Games of 2013
Giant Bomb, Cara Eillison: Top 10 Games of 2013 (honorable mention)
Indie Games: Top 10 Game Dev's Favorites of 2013
Gamasutra: A Dark Room's unique journey from the web to iOS
Support Us. Need Help?
Hope you like the game. Please rate it and let others know about it. If you need to contact me, shoot an email to ar@amirrajan.net.
Follow @ADarkRoomiOS on Twitter. Tell your friends about the game. Say thank you to Michael (@continuities) and Amir (@amirrajan) for creating this experience.
If you have any questions or want hints about some of the easter eggs that are hidden in the game, reach out to ADarkRoomiOS on Twitter…it may ask for your soul as payment though.
The web based version is free to play here: A Dark Room
---
Support Elizabeth Simins on Patreon. This is one of her works.
A Tribute to A Dark Room (displayed with permission)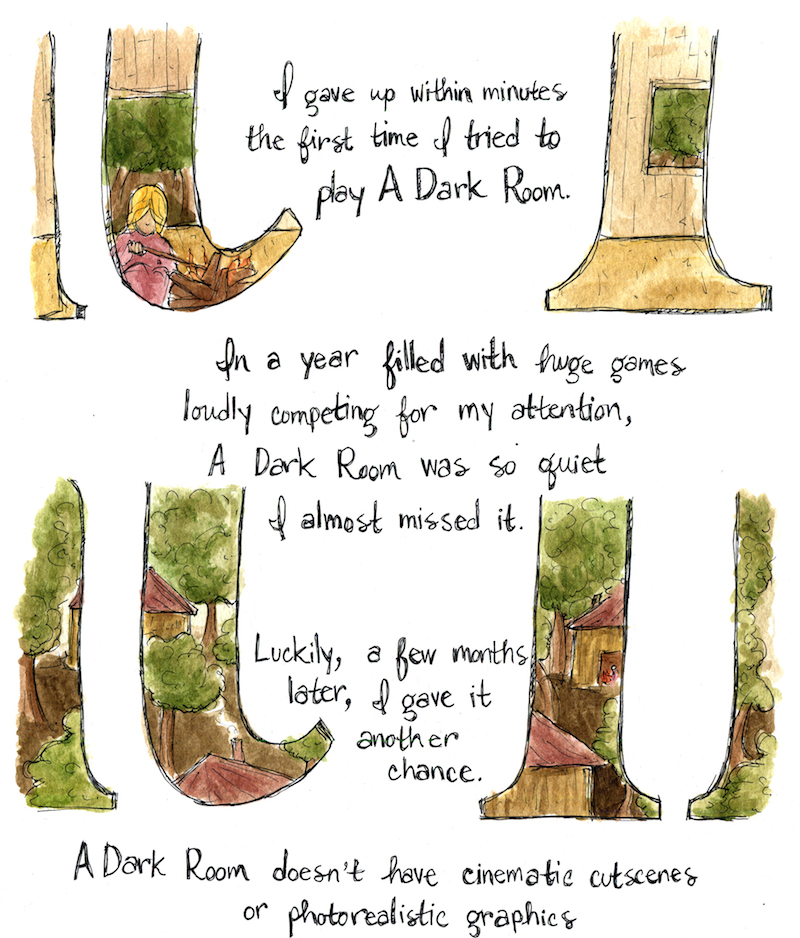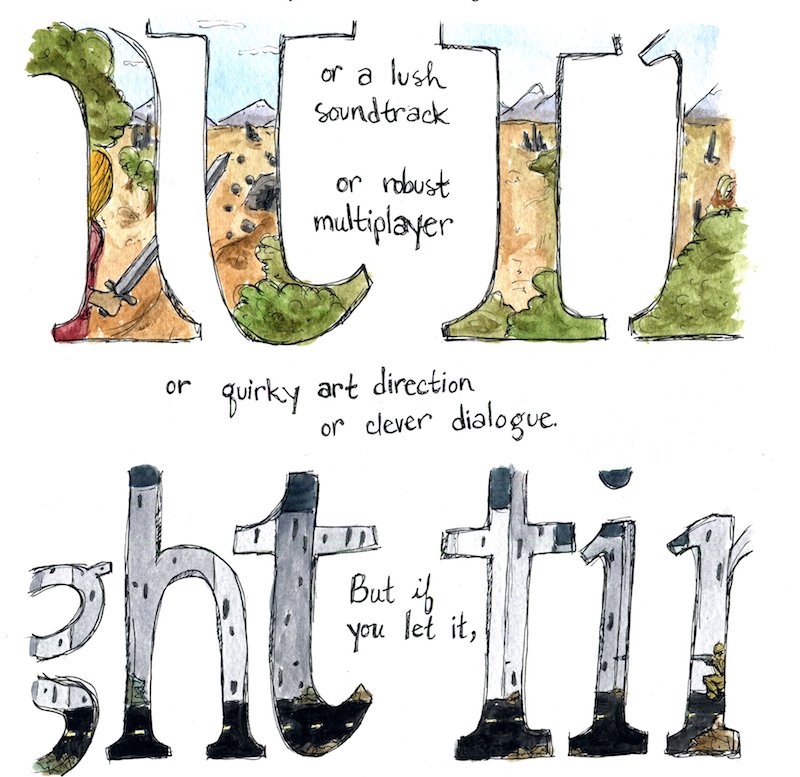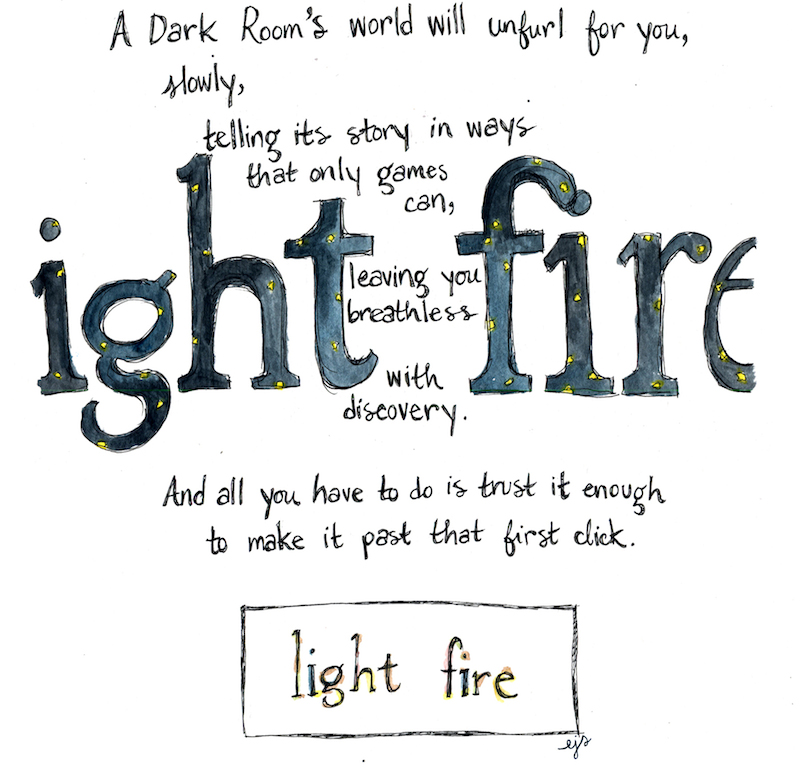 A letter to the fans of A Dark Room
I tried to keep this letter spoiler free. If you haven't played the web or mobile version of the game. Please take the time to experience this wonderful journey.
The History
A Dark Room for iOS is an official release of the web based version of the game. I worked closely with Michael Townsend to ensure the spirit of the game is captured in a mobile medium. After quitting my 9-5 job, this was my first attempt at making something on my own…in delivering software that people enjoy using (as opposed to being just a cog in a corporation).
I came across A Dark Room, June 2013 on Twitter. After playing the game, I knew that this was something important. A work of art. That very same day I contacted Michael Townsend about building a mobile version of this game. Michael, being the awesome dude he is, replied the same day.
If you want to do a port to iOS, you have my blessings.
A virtual handshake, a snapshot of the source code, 5 months, 70 emails, and 1 video conference later, A Dark Room for iOS shipped.
The Effort
A ridiculous amount of work was done to ensure the game's pace transferred well to a mobile device. Literally a 100 hours of hand cramping playthroughs of the game were performed to make sure you would stay engaged. Elements were added to increase the replayability and fun factor. Even a storyline was added to help build a more colorful world in the mind's eye.
I can't reiterate enough how cautious I was in making these changes. It was tough asking friends and family members to play a half baked game. And it was painful to watch every move they made, watch every time they got bored or couldn't figure out what to do. It was especially difficult because each person can only experience the game "for the first time", once. So if there was a misstep on my part, with regards to the game play or mobile layout, it was a very expensive error.
I was concerned that the changes I made would would ruin the essence of A Dark Room. The absolute last thing I'd ever want is to corrupt the world that the game created. I was very glad that Michael liked the changes and that they were seen as unique experience that complimented the web version.
The Apology
I'm glad the game has been well received, for the most part. So far, all the ratings have been 5 stars, except for one. For those that feel the port of the game isn't up to par, I can really only say one thing.
I'm sorry. From the first day of building the game I wanted to stay true to it. Really. I'm sorry I didn't deliver the experience you were expecting. That wasn't my intention.
If you enjoyed the game. Please, leave us a review in the App Store. 5 stars hopefully.
May the fire burn brightly for you. May it keep you warm.
Sincerely,
A Dark Room
---
I want to make sure I've logged everything that's happened around the growth and popularity of A Dark Room. I hope that indie developers (or those that want to try to "make it" in the App Store) can benefit from these entries. Notable events are listed below along with any pertinent information about how it affected downloads, reviews, emotions, and anything else that influenced the success (or failure) of A Dark Room for iOS.
Everything past this point contains spoilers. If you haven't played the game, and don't want the story spoiled. Stop reading now. No really, even the Table of Contents has spoilers. Don't say I didn't warn you.
Table of Contents
Jun 29, 2013: Picking the Development Environment permalink
Starting off, I knew I didn't want to write an app in Objective C and XCode again. During my time off, I had already built apps using Objective C, Interface Builder, and XCode. I wanted the experience in building an app using the "recommended" development environment… It was just not fun. I've spent too much time with bloated IDE's and visual designers. I didn't want to experience that again.
My first few lines of A Dark Room code were still in Objective C via XCode. After a day of coding, I got fed up with the environment. I had a copy of RubyMotion sitting on my virtual shelf. I put aside my fears of "using something that isn't supported by Apple", dusted it off, and started building the app in RubyMotion instead.
I coded for 12 hours straight on the game. I haven't had this feeling in a very long time… losing track of time like that.
Jul 7, 2013: A Week Later. First Playtest by a Non-Gamer permalink
I got huts working and had implemented population growth. The game was far from complete. But I took the chance and showed it to a non gamer. They were thoroughly confused. But slowly got pulled into the game and had built "a tiny village". I consistently heard "it needs pictures, it needs visuals". I actually thought about adding black and white background images to the game that would change as the player progressed… but I wanted to have a complete game before adding my own creativity to it.
Jul 8, 2013: Realization That I was Growing as a Developer permalink
I was working on the game while at the same time preparing for an Austin .Net User Group presentation on using the dynamic capabilities of C#. It's really interesting being proficient in multiple languages now. It's a perspective that's hard to describe. The presentation went well.
Jul 11, 2013: Realization That I Enjoy Helping Others Break Down Barriers permalink
I did another presentation on ASP.NET MVC web development using the dynamic capabilities of C#. I'd say that this Dallas .Net User Group presentation was the best presentation I've ever done. The turnout was huge (120+ people). I was presenting on ideas I cared about. I was trying to break down barriers for developers, and share techniques/workflows to development that just simply aren't practiced on the .Net stack. I hope I showed enough good things about fast feedback loops (out of proc build and deploys, fast test feedback), and low friction workflows (command line centric actions). I see the importance of these things given all the work I've now done using NodeJS, JavaScript, Rails, and (now) RubyMotion.
Jul 12, 2013: The First Road Block in Developing A Dark Room permalink
I hit my first road block. When I reached out to Michael about porting the game to iOS, I actually hadn't finished playing the web version. I never bought the compass to set out onto the Dusty Path. I thought I was making extremely good progress, but then I saw the complexity of the outside world. The economy management part of the game, that I had been coding on, was just the tip of the iceberg.
The Dusty Path was really hard to fit on a small screen. It took me 10 days to figure out how to approach the next part of the game. I made tiny sample apps and tried different variations of pinch and zoom techniques, scrolling techniques, "follow the player" techniques, and skeuomorphic stuff. Before this day I thought I was so close to finishing the implementation of game….
Jul 21, 2013: I Want to Stab Cocoa UI In the Face permalink
I settled on a "follow the player" implementation where the map would center when the player moved on the map. You could scroll around the map if you needed, but as soon as you moved again, it would refocus to your current location. I had to use two layers of overlapping labels to represent landmarks and terrain (Cocoa UILabels can only have one format/font). It took 5 days to get the labels lined up and scrolling correctly. Fifteen days, just gone on trying to display a map.
Jul 26, 2013: Making the iOS Version My Own permalink
At this point I needed to take a break from the Dusty Path and do some polish and playtesting. The pacing in the game was an issue. It was too slow to get started. I didn't know if it was because I had played it so many times, or if the game was actually just too slow to get going on a mobile medium.
I decided to add Friedrich Nietzsche quotes that would show up randomly when you stoked the fire (to give the player something to read through the slower points in the game). This didn't make it into the final release, but were in the game for a while. I had accumulated 200 quotes and felt that it was inline with the atmosphere of the game.
Jul 28, 2013: Creativity is a Drug permalink
I don't know what it was about these Nietzsche quotes. I think it was my first attempt at doing something different and creative… something that set A Dark Room iOS apart from the web version. I spent the day incorporating quotes, thinking to myself how awesome it would be and how eerie it would make the game. Here are some of them:
every profound spirit needs a mask: even more, around every profound spirit a mask is continually growing.
when you stare into the abyss the abyss stares back at you.
a dictator divides mankind into two classes: tools and enemies.
To help again with pacing, I decided to add "flashes of events" that would show up when the player gathered wood. It added just enough of a draw to keep going though the first part. The first message read:
hope she's okay, have to keep the fire going.
Jul 30, 2013: Back to Battle the Dusty Path permalink
The quotes were in place (I was so excited about showing this to Michael). I had random Room events working too. The after effects created from spending so many days with wrestling the map had worn off. I started specing out the battle sequences now.
Aug 1, 2013: Reflecting on the .Net Ecosystem - The Microsoft Manifesto permalink
I haven't booted up Windows for a long period of time at this point. Most of my time was spent building A Dark Room on OSX. I still built small applications and kept my skills sharp with NodeJS, and Rails. I still paired with developers on any stack (.Net or not), and I still went to .Net User Groups to meet up with friends.
But at this point I just had some (for lack of a better term) "resentment" with the .Net ecosystem (and the person I used to be). I've spent a good amount of time "on the other side" and have tried really, really hard to break down barriers for .Net developers. I took the day and wrote a blog entry about my past self: The Microsoft Manifesto.
Aug 2, 2013: Had to Take Another Break permalink
Development on A Dark Room started to slow down a bit (I hit a bit of a low point in motivation). Combat was working at a cursory level… mostly just animations. The battle sequence was pretty much a real time game with a timer running at 10 frames per second… I was making a real time game using Cocoa controls as opposed to sprites and a canvas… kind of felt weird about that. But it worked.
5 days on and off to work through the loot screen (the screen that came up after you won a battle). Pixel pushing labels and buttons. At this point I dread any kind of UI work in iOS.
Aug 13, 2013: Another Realization That I Was Becoming a Better Developer permalink
I was scheduled to speak at Austin Code Camp. I was going to do a presentation on an array of front end JavaScript frameworks. I spent the next few days working on the presentation and spent some time preparing a lighting talk about how you could use VIM for C# development. I also helped one of my friends (Chris Holt), prepare for his presentation on F#. Here I am, 4 months into my sabbatical. Continually gaining proficiency with C#/F#, JavaScript, Objective C, Ruby, VIM, Visual Studio, and XCode.
Aug 25, 2013: Taking a Break to Scratch a NodeJS Itch permalink
I've spent the last 8 days on the Dusty Path. Adding the Iron Mine, Coal Mine, Sulfur Mine, working through road creation, and working through unlocking Workshop items. I needed another break. I spent the next week working on a Twitter mashup written in NodeJS (github.com/amirrajan/sortis).
Sep 18, 2013: My First "Not .Net" Presentation permalink
I did my very first presentation on NodeJS. It was a quasi workshop that went through a number of NodeJS applications I've built. I helped developers build and deploy their first NodeJS applications to Nodejitsu and Heroku. It was lots of fun :-)
Sep 19, 2013: .Net OSS is DOA permalink
Development of the game continues. Play testing and tweaking the Dusty Path. I was just a grumpy person this month in general with all the annoying pixel pushing. I spent some time reflecting on all the different things I've done on my sabbatical. A Dark Room had been my primary "work" throughout this time. But I continued to spend time working with other stacks.
Another internal struggle with .Net development. I've tried to have discourse on Twitter with a number of .Net devs. I built a Twitter mashup to help me manage that discourse because I was having so many conversations at once. At this point I've learned (or at least gotten better) at objectively analyzing risk and reward. Using NodeJS and Ruby Motion, I have now have a better understanding of what OSS really looks like. So I put another blog post up: .Net OSS is DOA. This one got some attention. I wanted to (again) help developers break down barriers and see that all the "answers" don't exist in any single stack.
I was berated by my peers. I was "just plain wrong", I was told it's "just an opinion", and that "I was sorely misguided". Another dev tweets, "Here we go again with all the .Net OSS angst". I wish I never wrote this blog entry.
Sep 25, 2013: I'm Done Debating With Expert .Net Developers and Dealing With the .Net Mono Culture permalink
Another heated debate on Twitter. This time with regards to test driven development and behavior driven development. I now understand the term "strong opinions, strongly held". At this point, I knew I was done debating with experts of the .Net stack. Many (not all) have formed and solidified their opinions about "how things should be done". So I'm done trying to be respected/acknowledged by these individuals. I've wasted my breath too many times trying to get these guru's to see that they don't have it all figured out (no one has it all figured out, and you're selling yourself short if you think you do).
Oct 1, 2013: The Play Testing Grind… This is Not Fun permalink
All of September went to the Dusty Path (and being a grumpy developer). I made sure all the different city and town events showed up. I made sure the workshop items and workers unlocked correctly. I made sure map state rolled back if the player dies.
I chatted with Michael about this. How the hell he managed to test all this… He did what I did, just grinded through it. I spent 2 days creating an automated test suite. It tested all the different random paths the events could take. Glad I did that. Even with all the manual testing, I still had a number of bugs.
Oct 19, 2013: A Dusty Path Complete. I Hate You Michael (in a good way) permalink
The Dusty Path is finally to a point where all the events work and the spaceship can be unlocked. I have saving working too. A number of my friends and family have playtested the game to this point (and have frankly gotten sick of it).
During this time period I removed the Nietzsche quotes. It just led to confusion and the pacing was good enough with the "gather wood storyline events". Reading all those quotes helped shape the storyline I put in place. Particularly this quote:
a dictator divides mankind into two classes: tools and enemies.
There was a specific lull in the gameplay. The time between buying the compass and then building the Smokehouse, Tannery, and Workshop was still a bit of a wait. This is where I decided to shift the story to take a turn for the worse. Through the creation of these three buildings, the player would slowly see that the villagers were being overworked. And finally, the villagers became slaves:
the villagers…i can see the fatigue in their eyes
back breaking labor…the villagers are mine to command
leather for finer things, must push the villagers
i'll make the villagers work…day and night…they are my slaves
After the game released, I had a number of people literally reset the game at this point… or simply stop gathering wood because they didn't want their villagers to turn into slaves. I didn't expect this kind of visceral reaction to the events. We murder in video game all the time. We vandalize. We steal cars. We stomp on the heads of turtles and mushrooms that never did anything to us. Why did the slave event cause people to stop playing?
I hate you Michael (in a good way). You didn't build a single game. You built 3 games and stitched them together in a brilliant way. The ship scene was the next thing to tackle. There was an end in sight. The largest part of the game (The Dusty Path) was done.
Oct 23, 2013: Space Sequence Complete. The Meeting With Michael. permalink
I couldn't believe it. I had a fully functioning game from beginning to end. I knew I had a number of things to polish. But the game was "code complete". Around this time I emailed Michael to set up a video conference (he lives in Canada.. I live in Dallas, Tx). I can't believe that all the communication up until this point was done through email and chat.
Michael hadn't seen the storyline additions I made. I was worried he'd say "no" to the changes. It wasn't a lot of work to rip it out, but it was definitely something I felt contributed greatly to the experience of A Dark Room. It made the player feel anxious, uneasy, even worried to continue the game at times.
This is a testament to how awesome and brilliant Michael is. He appreciated the changes I made to the storyline, and loved the enhancements I made to the mobile version of the game. It was as simple as that. He just said, "That's awesome! I like it!" Suffice to say that a huge weight was lifted off of my shoulders. We got to talking in fact about the intricacies of the game. I mentioned that most of the game could have been played without any villagers if iron, coal and sulphur could be mined by the player. Michael said "Hey, why don't you add that? Add a solo mode with an alternate ending?"
Oct 30, 2013: Incorporating Michael's Feedback permalink
The primary feedback that I got was removal of pronouns. I didn't realize it, but no part of the web version referred to the player as "you" or "I" or "us". I also incorporated the solo mode and alternate ending into the game. Playtesting. Playtesting. More playtesting. More tweaking. More playtesting.
Oct 31, 2013: My Wife's Final Playtest permalink
The game is in its final form. My wife sits down and plays the game for the 50th time. A number of my friends playtested the game. But I really didn't want to ask too much of them. Most of them only playtested the game once, at different points in the development process. I was able to get feedback from them, and they were a tremendous help (thank you Jason Smith, Eric Sowell, Kevin Wade, Matt Florence, Tim Rayburn, Zahan Tariq, Christopher Krailo, Aaron Lasseigne, and Chris Holt).
But my wife stands well above all the others that playtested. She could have said she was tired of playing this game at any point, but she didn't. She was the only person that, without hesitation, would play through the game any time I asked. I handed the final game to her at 10 pm that night. And she played the game non stop, all the way to the end. It was 2 am when she completed the play through. Thank you my dear.
Nov 1, 2013: Submitted to the App Store at $1.99 permalink
I submitted the game to the App Store. The description of the game was set to "a text based journey… awake. head throbbing. vision blurry." I still spent a day making minor tweaks to balancing. I playtested the game another 4 times before releasing. My game times were pretty damn fast at this point because I knew exactly what to do. I could beat the game in 90 to 100 minutes without even thinking too hard. Now I just have to wait. This was a good week. I shipped A Dark Room for iOS. And I was now preparing for a NodeJS competition: Node Knockout 2013!
Nov 8, 2013: One of the Worst Days of My Life permalink
It took a full 7 days. But A Dark Room was finally in the App Store. I downloaded the release version of the game on my iPhone 5 and was able to play it. It was an unreal feeling given how much work was put in. I know Michael tweeted about the release. I was hoping that many people would tweet about the iOS version. It was 6 months since the Hacker News post of A Dark Room. Everyone who upvoted the game probably have forgotten about it by now. But maybe it would go viral like the web version did.
The first reply to Michael's tweet came in. I was sick to my stomach: "The game just crashes, I have an iPhone 5s". I screamed at the top of my lungs, broke down, literally fell to my knees and cried. No one wants to see that on their release day. No one should ever have that happen to them. I tried my wife's iPhone 5s and it was crashing there too. I texted my friend Eric Sowell and the game was also crashing for him. At that moment I wished I never spent all that time building it.
I pulled myself together and put a debug build of A Dark Room on my wife's iPhone. It crashed immediately with a runtime exception (the error itself is a blur now, but I remember it having to do with compilation flags). My assumption at this point was it had something to do with 64 bit architecture of the new iOS devices.
I drove (sped) to the Apple Store in the Parks at Willow Bend Mall, and bought an iPad Air to test out my theory. I sat at the food court, took the iPad out. I loaded up the developer certs and deployed a debug build of the app. It crashed there too. I ended up explicitly setting the compilation flag to armv7 for all libraries I was referencing. This fixed the debug build.
I repackaged the app and via iTunes Connect, requested an emergency release of the app. Apple got back to me and approved the emergency release. I pushed up version 1.1 of the app. Then I just had to wait… nothing really I could do. I was taking part in a NodeJS competition at the time. So that helped keep my mind off of it.
Nov 9, 2013: The Crash Fix Shipped permalink
Over the weekend (during the NodeJS competition), I received an email saying that version 1.1 of A Dark Room was ready for sale. That moment, I asked Eric (he was also in the competition) to download the updated version of the app. He started it up, and it worked.
I still have no idea why setting the compilation flag to armv7 worked. But I'm not about to change that now. To this day, it's still extremely stressful deploying to the App Store. I have no idea if the instant crash will come back. I can't recreate it using the simulators either.
Our Node Knockout 2013 team: Team Us - As in "us" not "them", ended up placing 15th overall and placed 6th in the fun/utility category. We built a game called NodeKick. It was an awesome experience.
Nov 10, 2013: My Obsession with Twitter and @ADarkRoomiOS Begins permalink
I created the @ADarkRoomiOS Twitter handle and started tweeting in the persona of the game. The plan was to interact with anyone and everyone who ever tweeted about the web version of the game. Having a daily tweet from the game, showed that I wasn't just a random spam bot… that there was a real person behind these tweets. I did a Twitter search for "adarkroom" and began combing through all the tweets… replying to anyone who mentioned the game. Letting them know that there was an iOS version.
Nov 15, 2013: A Ray of Hope - Courtney Stanton (@q0rt) permalink
I've spent 5 days putting up daily tweets about A Dark Room. Reached out to a few people on Twitter in the persona of the game. It was fun. I got a couple of laughs and some people actually interacted with me too. I liked building a relationship with the fans :-). Every single morning I'd wake up and check the downloads of A Dark Room for iOS. They were abysmal. Only 5 to 10 downloads a day. It's such a let down. Such a beautiful game… and no one was downloading it.
Then the ray of hope. Courtney Stanton (@q0rt) tweeted about the release of the game. This was a big deal given that it was the first tweet about the game from someone outside of Michael's and my development circles. Courtney also had large following on Twitter.
This tweet also represented a window into the indie game world. I started following this community more closely. Reports for downloads of the game take a full day to get published in iTunes Connect. Seeing this kind of tweet and not knowing the impact right away is nerve wracking.
Nov 16, 2013: A Rude Awakening permalink
I woke up the next morning, awake, head throbbing, vision blurry. In a sleepy stupor, I logged into iTunes Connect and saw the number of downloads caused by Courtney's tweet. It spiked to 30. Thirty downloads… a tweet sent to over 3,000 people… and it lead to only 30 downloads.
Nov 18, 2013: Additional Notable Interactions permalink
Using the @ADarkRoomiOS Twitter account, I interacted with Leigh Alexander (@leighalexander), an editor at Gamasutra and Kotaku, about a tweet she posted with regards to A Dark Room. Letting a number of people in the conversation know about the existence of the iOS version. There was no noticeable difference in downloads the next day. A meager 5 downloads on the 19th. I'm glad I was able to have a meaningful interaction with Leigh however.
Nov 22, 2013: Pocket Gamers writes an Entry on A Dark Room permalink
I added "search on Google for any mention of A Dark Room" to my routine. I came accross this: Take a risk on iOS adventure game A Dark Room and you might have a new addiction. This review written by Chris Preistman (@CPriestman), is the first review of A Dark Room iOS that I had come across. How freaking cool is that? Unsolicited reviews are starting to come up. A spike to 30 downloads happened that day.
Nov 23, 2013: A Dark Room Forum Entry on Touch Arcade permalink
I received an email from a random person this day. The game was listed in the Touch Arcade forums, and one of the members emailed me to get some details about the game (what the game was about, how long the game was, etc). I answered his questions immediately and was happy to hear that he loved the game and wrote about his experience on the Touch Arcade forums. Every week afterwards, I have emailed a promo code to Touch Arcade for an official review. I have yet to hear back from them.
Nov 24, 2013: The First One Star Review permalink
The game up to this point has had 245 downloads over an 18 day period (that's 13 downloads a day). I had a few 5 star reviews from friends in the development community. But I received my first 1 star review:
What was a simple and elegant game should not have been messed with. I regret spending $2 on such a mess. Not only is the UI counter-intuitive and clumsy, but the mobile designer took far too much creative license in altering the original statistics and proportions put in place by Michael Townsend, original designer. Additionally, there is a bug that results in permanent thieves with no way to deter them, making the game essentially unplayable.
What do I do? I played through the game hundreds of times. Meticulously place every button, every interaction. There was no bug in the thieves, I checked 10 times to make sure (just impatience on the part of the player, and unlucky random number generation). One bad review offsets 100 good ones. To this day I feel the pains of this review. I see it as incredibly brutal. Empathy was something I've learned through my time as an independent developer. I understood how frustrating it is to pay for an app and get delivered "shit". So I apologized on this support page. I have no idea if blewis1234 will ever read anything on this page. But I hope at some point, he'll re-rate the game.
Nov 26, 2013: Game Back Story, an Apology, and a Post to Hacker News permalink
I updated the support page for A Dark Room to include some back story. The name of the section is "A letter to the fans of A Dark Room" (near the top). I posted this entry on Hacker News and reddit.com/r/incremental_games to see if it would generate some interest. Again, I ended up hoping against all hope that enough people on Hacker News would remember the "Minimal Text Adventure" and show some love. It didn't happen. The response I got on Reddit was a bit better. I got quite a few kind words, which helped heal the wounds of my first one star review. The next morning, because of the post to Reddit, the game downloads spiked to 27 downloads.
Nov 27, 2013: Another Notable Tweet. A Stellar Video Review. permalink
Cassandra Khaw (@casskhaw), an editor at USGamer, tweets about A Dark Room on iOS. Again because of an interaction from @ADarkRoomiOS. I'm getting more involved in the indie gamer community. Courtney, Leigh, and Cassandra are all people that @ADarkRoomiOS (and by extension I) follow. That day the downloads spiked to 45. The largest single day download for A Dark Room iOS. The download trend didn't last. Every time I think the download trend will hold, it doesn't.
I also came across a video review Chris Charlton (@reasonjp) did on the iOS version of the game. It was an incredible review, and it truly made my day. These small wins help me get through each disappointment in the number of downloads.
Dec 10, 2013: Blind Gamers Are Playing A Dark Room permalink
Blind gamers reached out to @ADarkRoomiOS: Orinks (a member of AppleVis.com) and Aaron (a member of AudioGames.net). I was in complete utter shock that blind people were trying to play A Dark Room. I sent out a promise to them that I'd make the game fully accessible. I fired up RubyMotion and started researching what it would take to make A Dark Room fully playable via VoiceOver.
Dec 16, 2013: Cara Ellison (@Carachan1) - Another Glimmer of Hope for A Dark Room permalink
Cara Ellison, a writer for a number of online gaming website, mentioned that she was considering A Dark Room for her 2013 Game of the Year list. I reached out to her hoping she would have some kind words to write about the iOS version. She said she'd give the game a shot! I emailed her a promo code that day. Can't say this enough, these moments are hard to put in words. It's a chance for all the hard work Michael and I have put into the game to possibly pay off. For A Dark Room to finally make it into the lime lite.
Dec 17, 2013: Indie Mega Booth Does A Podcast on A Dark Room permalink
Another "search on Google everyday" result: Indie Mega Booth did a full length podcast on A Dark Room. It's hard to believe 4 people can talk so long about such a small game (it was awesome too). Just wonderful to hear different interpretations of the story. They mentioned that the iOS version of the game exists too. Yet again, hoping against all odds that the mention of the game would spur more downloads. I took the time to thank Indie Mega Booth for doing the podcast and personally thanked Maddy Myers (@samusclone) on Twitter…. such an awesome Twitter handle by the way.
Dec 18, 2013: Maddy Myers (@samusclone) - More Connections With The Gaming Community permalink
Maddy Myers was part of the discussion on the Indie Mega Booth podcast. She's an editor for Paste Magazine. Another important voice in the gaming community. Every person I've interacted with thus far is trying to be heard. Everyone in the gaming community (whether they are an independent game developer or writer) is struggling in some form. And all I can say is that I'll do what I can to make sure those people who have supported A Dark Room, have my support in turn.
Dec 22, 2013: Someone Stopped Playing Because of Slaves permalink
The first public comment about the slaves in the mobile version was posted on Michael's blog. My biggest fear is the vengeful 1 star review. I already had one… I didn't want another:
I am hoping someone can help. I started to play through and had carted wood to the point the population becomes slaves. I then had thieves and it was taking so long to stop them that I thought you were supposed to stop carting wood before your population became slaves. So I reset. I left the cart alone even though it had a "!" Next to it. I now have the entire map uncovered, I have been to every location and have used the jewel. I have the space ship but I have no option to upgrade it even though I have 40 alien alloy. Is this a bug because I ignored the cart for so long or am I missing something. Very frustrating as I will NOT be replying to get to this point.
Michael was able to get the email address for the person who left the comment. And I emailed him immediately to tell him how to beat the game. I also gave him a hint on how to unlock the alternate ending where his villagers wouldn't become slaves. He was happy to receive the email and I felt like I dodged a bullet.
Dec 27, 2013: A Dark Room, 2013 GOTY Lists, and Zoe Quinn permalink
I was holding my breath for this day. A number of online gaming websites posted their 2013 Games of the Year. A Dark Room (the web and mobile version) made three lists: Maddy Myers', Zoe Quinn's and Cara Ellison's.
Additionally A Dark Room was the inspiration for a work of art by Elizabeth Simins (@ElizSimins). She was listed as one of the top 10 works The Bygon Bureau.
This all happened in one day. I felt like I had won the lottery. Surely, this is A Dark Room's moment. These three GOTY entries probably reached 10's of thousands of gamers.
This was also the first time I heard about Depression Quest by Zoe Quinn. I know she was feeling the same thing I was. We were two indie game developers, trying to create things that have meaning for us. And we both made 2013 Game of the Year lists.
I played Depression Quest all the way through. It was an experience… that's the best way to describe it. I'm glad there are games coming out that connect emotionally with the player… that are more than guns and eye candy. I reached out to Zoe and let her know that the blind community are always in need for video games, and to spend some time in making her game accessible.
I waited till the next day. I woke up in the morning and checked the downloads… there were 54. It's the highest thus far… but that was all the downloads that were generated… soul crushing I tell you.
Dec 28, 2013: Elizabeth Simins (@ElizSimins) and Patreon permalink
After seeing her art work on Bygon Bureau, I reached out to Elizabeth and asked if I could put her piece on A Dark Room's support page. She said yes :-) Another bit of good news to keep my spirits up. Thank you Elizabeth, I'm forever grateful that you allowed me to showcase your work here (it's at the top of this page). Her work also led me to discover Patreon. I'm amazed at how technology has given a means for artists to showcase their works (and potentially make a living off of them). Removing the middle man and making it easy for artists to promote their own works is a big deal.
Jan 1, 2014: First Check From Apple permalink
First check comes in. The grand totals for the month of November:
Revenue: $478.27
Downloads: 403
Reviews: 5 five-star reviews, 1 one-star review
RPG Rank: 567th at its low point, 27th at its height
Overall Rank: 1479th for two days (metrics below the 1500th placement aren't kept in AppAnnie)
Jan 4, 2014: The Accessible Version of A Dark Room Is Released permalink
I worked through the holidays to get the accessible version of A Dark Room completed. It spent about 5 days in the approval process and then finally released on the 4th. I let Orinks and Aaron know about the updates and they subsequently let their respective communities know. The downloads spiked to about 40 downloads for the next two days. I really didn't care about the downloads this time around. I wanted to do the right thing. I also ended up writing about what it took to make A Dark Room accessible: Raising Awareness, the Blind use iOS Devices.
Given the accessibility updates and the recent media coverage for A Dark Room, I changed the App Store description too:
Awake. Head throbbing. Vision blurry.
An unforgettable journey that starts small and slowly becomes much, much, more. Uncover the secrets of A Dark Room. Come light the fire.
100% accessible and playable via VoiceOver.
Awards and Recognition:
Paste Magazine, Maddy Myers: Top 20 Indie Games of 2013
Giant Bomb, Zoe Quinn: Top 10 Games of 2013
Giant Bomb, Cara Eillison: Top 10 Games of 2013 (honorable mention)
I also nerfed thieves a little bit… you're welcome blewis1234 ;-)
Jan 5, 2014: Changes in Routine permalink
The iOS version of the game is solid. I still get a little antsy releasing updates and brace for insta-crashes on my iPad Air. It hasn't happened again though. With a little bit of breathing room, I started working through Land of Lisp and started studying Clojure. I also started doing screencasts on NodeJS development (my Coding Out Loud screencasts). @ADarkRoomiOS's Twitter remained active. I kept interacting with fans. It was a great way to relax and joke around with the community.
I also started work on a "spiritual" sequel to A Dark Room. Lots of HTML5 canvas work and AngularJS. Nodekick (the NodeJS game that Team Us built for Node Knockout 2013) also got cleaned up.
I finally started to get used to the number of downloads for the game. I accepted them for what they were. But I still meticulously observed impact to the number and correlated them to what I did online.
Jan 10, 2014: Tweets Sent to 6k People permalink
A notable individual in the iOS community @ScottStevenson mentioned A Dark Room. I replied with a few humorous tweets:
"Just so you know. I consume a part of your soul every time you stoke the fire. #nomnomnom"
"Just cause you followed me doesn't mean I'll give you anything back."
I got some retweets because of these interactions :-). Downloads spiked to 40 for a couple of days. Thank you for the support Scott.
Jan 15, 2014: Tweets Sent to 18k People permalink
A notable individual in the game community @RobertAshley interacted with @ADarkRoomiOS too. I sent Robert to this page and told him about how both Michael and I were the sole developers of the game. Robert was kind enough to craft a tweet telling his followers about the web and mobile version of the game. Downloads spiked again to 40 downloads for a couple of days.
Jan 16, 2014: Pocket Tactics and Owen Faraday permalink
Another wonderful interaction for @ADarkRoomiOS. This time, a random follower mentioned @ADarkRoomiOS and @PocketTactics in the same tweet… letting the iOS publication know about the game. I took this opportunity to email Owen Faraday (editor of Pocket Tactics).
I asked if Pocket Tactics would like to do a review on A Dark Room. Owen replied and I sent over a promo code (yay!).
On Feb 4th, Owen emailed with the word: "Amazing". I hope to see a review show up soon on Pocket Tactics. I try to be diligent in following up with Owen… without being annoying. It's hard to find a good balance between the two. A review hasn't gone up yet… but after another release of the game I'll be sure to follow up with Owen. I hope he doesn't take offense to my persistence.
Jan 19, 2014: Apple Vis Promo Code Give Away permalink
The blog post I wrote about accessibility received some buzz in the blind community. The AppleVis editorial team reached out to me. They wanted to run a promo code giveaway. I sent them 10 promo codes and they did something really unique. Instead of just giving them away, they asked individuals to go read the blog post I did on making the game accessible to the blind, and about the making of the game. They had to mention something from the write ups to get a promo code. It was a great idea, and I saw a lot of nice things said about the game.
Downloads spiked to 50 during the contest period. I'm burning through my promo codes, but they are generating results.
Jan 26, 2014: Promo Code Give Away on Touch Arcade permalink
I took Apple Vis' idea and gave away 20 promo codes across two separate contests at Touch Arcade. The interactions I had with the fans (old and new) was great. A lot kind words and genuine support.
The downloads for the last four days of January stayed at a steady 40.
Feb 1, 2014: Check #2 Comes in From Apple permalink
The second check comes in. The grand totals for the month of December:
Revenue: $943.00
Downloads: 698
Reviews: 3 five-star reviews
RPG Rank: 201st at its low point, 33rd at its height
Overall Rank: 1428th at its low point, 486th at its height (fell below the 1500 cut off for only 3 days)
Feb 2, 2014: Another Person Stopped Playing Because of Slaves permalink
So a bit of background about the iOS version and its ending game sequence. The starship represents the end of the game. It is only unlocked once you've progressed far enough in the storyline. If a player avoids storyline progression, they are effectively stuck, and can't complete the game. The villagers turning into slaves leaves another person in this stuck state.
Here is a part of the email that was sent to me:
Also I would like to mention that I liked this game until I found out I was getting screwed over. I am playing it on an iPhone 4. Just hoping you guys can fix this before a flood of unhappy folks come by and take your stars down a notch. And no I haven't rated your game because I am not the vengeful type. Video games are hard to make and it seems you put a lot of effort into this. I am sending you screenshots of my game.
The player was kind enough to include screenshots of his current game. I didn't need to look (but I did anyways). He stopped progressing the storyline… Here is what I wrote back:
Every time you gather wood the storyline progresses toward the end. There is an alternate ending too. Some people are sad with how the storyline progresses. The alternative approach to playing the game (though much harder) leads to a happier ending. Let me know if you have any other questions. And I love hearing from fans. So don't hesitate to reach out. And thanks for the detailed screenshots :-)
He replied with:
Mmm. I see now. Lol I was trying not to further my slave owner persona. You know if you made a instruction manual and just mentioned a few things, I'm sure this app will be an even better hit. (Example I thought the carbine shot bullets not battery's, because there is a actual rifle named the carbine. I think its ww2 era). I think anyone who played the older call of duties would make this mistake: Thanks for your help. Say, if I could rack your brain, do I not need to build huts to get the new ending, or could I build huts but just not gather wood?
And a happy ending:
Hey thanks! I sure will. I left a positive review in the App Store. I found this game on reddit. I highly recommend creating a user account and posting something like "great iOS game, free downloads for the first 5 commenters". In the description write please leave review and comment for download. Those people usually will help generate your sales. I found a post about this game in r/gaming. Good luck and thank you for answering my emails. I really thought the game was busted. Lol
I ended up putting a more assertive message about gathering wood to progress the storyline within the game. In version 1.4, when you stoke the fire (and there is a storyline element that needs to be dealt with). You get a small message "need to gather wood, the forest beckons". This will hopefully help guide future gamers.
Feb 5, 2014: Promo Code Give Away on Reddit permalink
I'm burning through my promo codes at this point. The Apple Vis approach to giving away promo codes leads to a much deeper connection with the fans of the game. It's meaningful and I enjoy having all the good conversations. I ran a couple of promo code giveaways on Reddit.
Downloads spiked to 40 those days.
Feb 7, 2014: A Hail Mary to Cara Ellison permalink
I was down to my last 15 codes. I reached out to Cara Ellison on Twitter about getting A Dark Room in front of people that may write about it. Being the awesome person she is, she replied. I sent over 6 promo codes. The frustrating thing about promo codes is that I don't know if they've been redeemed. I know Cara is extremely busy, and she probably gets many, many emails from people trying to pitch her games. I'm just glad that I have someone that can advocate for me. She continues to be a ray of hope for A Dark Room. Unsolicited mentions of the game and always responds to my emails. Thank you… thank you Cara.
Feb 11, 2014: A Hail Mary to Brandon Boyer permalink
I'm getting more cautions at this point (I'm down to 9 codes). I'm scouring Twitter for connections… people to reach out to… people that may respond. @Kotaku follows only 41 people and is followed by over three hundred thousand. It looks like the people Kotaku is following is fairly exclusive.
There were two people on this list that I had hopes would respond: Leigh Alexander (@leighalexander) and Brandon Boyer (@brandonnn). Both had a large number of followers and (based on their profiles) are receptive to indie developers. Brandon Boyer and Cara Ellison follow each other. Leigh Alexander (someone I've interacted with before) and Maddy Myers follow each other…. is this borderline stalking? … XD
I end up emailing Brandon Boyer. I tried not to send him a wall of text (it happened anyways). But Brandon replied after a few days (yay!). I sent over a promo code. Now I just have to wait T_T.
Feb 12, 2014: Appcessible Podcast permalink
Around this same time Jonathan Mosen reached out to me. He is another individual from the blind community and came across the blog entry I did on adding accessibility enhancements to A Dark Room. He wanted to have me on a new podcast he was launching for the blind community. I said yes (of course), here is a link to the podcast.
Feb 13, 2014: Price Dropped on Game to $0.99 (50% off Sale) permalink
A Dark Room is now hovering near the top 10 under the RPG Category. I didn't want the ranking to drop. I'm down to 6 promo codes, I have a pending release, but haven't pushed it yet. So I dropped the price of A Dark Room by 50% ($0.99).
I tweeted about it. A bunch of people tweeted about it. Pocket Tactics wrote up a short piece on the game being half off. There was an unsolicited Reddit post on the price drop. There was an unsolicited post on Touch Arcade. I woke up the next day I look at the downloads. They spiked to 351 in one day.
Feb 14, 2014: A Dark Room Makes it Into the Top 10 under the RPG Category permalink
A Dark Room in now number 8 in the App Store under the RPG category. Downloads have dropped to 100 after the initial spike from the previous day. I didn't want it to lose steam. I DIDN'T want it to lose steam. I wondered if I could set A Dark Room to free for two days. Would it reset my app rank? The app dropped to number 11 the next day. It was dropping again…. that evening I made the app free… for two days.
Feb 15, 2014: A Dark Room Is Free For Two Days permalink
A number of unsolicited posts went up again about the app being free… over the weekend, A Dark Room got ~8,900 downloads and ~10 new five-star reviews. But it lost it's rank entirely in the App Store. The app went back to its $0.99 price. It took a couple of days, but made it's way back to the ranking list. A Dark Room now hovers around 30 in the RPG Rankings. To this day I still wonder if it was a mistake to make the app free for two days.
Feb 21, 2014: A Hail Mary to Leigh Alexander permalink
I reached out to Leigh via email… and let her know via Twitter that I sent her an email :-D. After a few days, she replied back with some interview questions for me and Michael! Hopefully a publication by Leigh will bring some visibility to A Dark Room.
Feb 24, 2014: Reaching Out to RubyMotion permalink
I Talked to Karthik Hariharan about the viability of releasing A Dark Room's source (with an e-book). Trying to think of additional ways to generate income off of this IP. The game isn't making large amounts of money in the App Store. Every time the game gets a "huge" spike in downloads, it tapers off quickly. I keep thinking to myself "this trend will hold, this trend will hold." But it hasn't done so yet. Karthik also recommended that I reach out to the RubyMotion team and that Laruent Sansoetti is a nice guy and may be able to offer some advice.
I sent an email to the RubyMotion team telling them about the success the game had so far. It was incredible getting a response back so quickly from Laurent and then a tweet that reached a number of developers.
Feb 27, 2013: Another Release of A Dark Room, The Review Me Button permalink
There is always a side effect to releasing a new version of the app to the App Store. The first side effect: you lose all the reviews for the current version of the App (only ratings for the current version of the app show up in preview screens, the user can go and see the reviews of the previous versions, but it's not immediately obvious). The second side effect: you get more promo codes.
A Dark Room's current version has 56 five-star reviews, 1 one-star review, and 1 four-star review. The app ranking was already shot to hell (relative to where it was before), because of the two day price change to free. So I figured this would be a good time to do an update. I added the "you better go gather wood" notification to help the player through the slavery period. I made more accessibility enhancements to the game to make it a little bit easier for the blind to navigate the Dusty Path. And I added a "review me" button to the game. The app is currently in the App Store's review process. I'll update this log as soon as I get the results/side effects from making these changes.
Mar 3, 2014: Slides Complete for My First Presentation at a Ruby User Group - 12k Lines of RubyMotion permalink
A lot is still up in the air at this point. Version 1.4 is waiting for release. I've permanently dropped the price of A Dark Room to $0.99 (I don't know the long term effects of this). I'm hoping that Owen from Pocket Tactics shows some love to A Dark Room on his website. I'm hoping that Leigh publishes the interview questions. I'm hoping that Brandon gets back to me about his thoughts on the game and with any help he can provide. I'm hoping the RubyMotion team likes the slides I've sent them and that I'll get some visibility with them too. I'm hoping that my first presentation at a Ruby user group goes well. I'm hoping the new review button generates more reviews. Lots of hope… few answers at this point. Here is the link to the presentation I did..
Mar 4, 2014: The Review Button in A Dark Room permalink
The pending release to A Dark Room hit the App Store. As expected all the reviews from the previous version get removed from the "current" release. The app at this point is ranked 32 under the RPG Category. With zero reviews for the current release. I knew this was a risk going in, but with it, I got 100 more promo codes.
Outside of more accessibilty enhancements, and a bit more storyline elements; the most important part of this release was the review button I added. The review button shows up after the player has beaten the game. I decided to only show it at this point, because I know that the player has experienced the story in its entirety at least once.
That day I received 20 reviews. A small success to be celebrated. I'm hoping to have an influx of reviews every few days given how long it takes to beat the game… I'll probably be dissapointed… but we'll see.
Mar 5, 2014: Check Number 3 From Apple permalink
The third check comes in. The grand totals for the month of January:
Revenue: $1,320.00
Downloads: 986
Reviews: 11 five-star reviews, another one-star review
RPG Rank: 154th at its low point, 25th at its height
Overall Rank: 1469th at its low point, 432th at its height (stayed in the top 1500 Games for the entire month)
The one star review made me smile a little bit. You can't please everyone:
its crap ★
by Bryce68!!! - Version 1.3 - Jan 24, 2014
its a white screen those other ratings are rigged the game is junk
I knew that the first part of the game was slow to "reveal itself". The web version takes 125 seconds for the builder to finally wake up and open up the rest of the game. In the mobile version, this time was dropped down to 45 seconds (specifically to avoid this kind of review). I added a few "keep going" messages in the mobile version that start revealing themselves 17 seconds into the game. Looks like neither of these carrots kept Byrce68's attention long enough. It sucks… but what can you do but smile and move on.
A message to Bryce68: I'm sorry that I wasn't able to keep your attention, but none of the review are fake… all 20 of them (the grand total at the time Bryce's review was written) are genuine, through and through.
Mar 6, 2014: Leigh Alexander Publishes Her Interview on Gamasutra permalink
Leigh, thank you for this. Thank you for taking the time to interview Michael and me. Thank you for skillfully writing about the journey we've had so far.
Here is the write up Leigh Alexander did on A Dark Room: A Dark Room's unique journey from the web to iOS. It's an amazing read. Gamasutra has 100k followers… it was tweeted by their official Twitter handle. Additionally, the article was shared ~25 times on Twitter and got 15 likes on Facebook.
At this point, I have a better expectations of the impact these kind of publications have on the number of downloads (it's small, but every little bit helps keep me going). The downloads for the day spiked to 68 (a little over double my $0.99-price averages for the month). The drop off is fairly quick for this kind of media coverage (given the historical data I have now… I'll report back after a few days have passed). Regardless, thank you Leigh Alexander. Thank you for this small win I can celebrate.
Mar 8, 2014: Two Days After the Gamasutra Publication permalink
Leigh's article stayed on Gamasutra's Top Articles for two days.
On March 6th, Leigh tweeted about it to 34k Twitter followers. Gamasutra tweeted about it to their 100k followers.
On March 7th, Leigh tweeted about the article a second time.
The game's download spiked to ~100 downloads for each day. Its rank went from number 24 (in the RPG category), to number 16. All these changes were in line with my expectations. I wanted to keep the momentum going, so I decided to spend the next 4 days promoting the game on Reddit, Twitter, and Touch Arcade.
Mar 12, 2014: Four Days of Promotion permalink
I posted this write up on /r/IndieGaming and /r/GameDev. To share what I've been through so far.. and yes, to help with visibility… two birds with one stone, right? The posts gained popularity and I had a number of good conversations, specifically about the viability of the Android market (tl;dr; it doesn't look promising).
I did another promo code giveaway on Touch Arcade. But nobody (not a single person), asked for a promo code. That was incredibly surprising. I'm not sure if it was timing or if the people on Touch Arcade just didn't care to get a copy. I let the thread die off. That will be the last time I post on Touch Arcade.
The reception or Reddit was much better. I received a number of good comments and support on /r/iOSGaming and /r/AppHookup. Thirty codes were given away and the downloads for three days stayed at around 80. Being active on Reddit and making sure to reply quickly to conversations took up a couple of hours every day. A Dark Room's App Store ranking (again, under the RPG section), continued to hover around 15.
Good things came out of the the Reddit posts. I had a number of incredibly candid posts about the game and the development logs. Many people empathized and gave words of encouragement. Some didn't. Have I mentioned how important tact and empathy are?
One notable conversation convinced me to try porting the game to iPad. I decided to time box the port to iPad. Surprisingly, I wrapped it up in a few days. I'm playtesting the game now… on an iPhone 5, iPhone 5s, iPad 3, iPad Air, and iPad 2… T_T.
Given that an iPad version was going to be released, I decided to give away 50 more codes, but this time on Twitter (you lose any codes you don't use within a release). I posted the codes and tweeted about it. Cassandra Khaw (Editor at USGamers), Maddy Myers (Editor at Paste Magazine), Laruent Sansoetti (Founder of HipByte and RubyMotion), and Pocket Tactics (ie Owen Faraday) retweeted this promotion to their followers (~13k followers combined). All the codes were claimed. Given the downloads for that day, it didn't seem like they were all redeemed however. There was no spike in sales either. My downloads (and revenue) is flatlining now.
Mar 13, 2014: Back in the Top 10, iPad Release permalink
I woke up this morning. Awake, head throbbing, vision blurry ;-). Checked my app rank… A Dark Room made it into the top 10 RPGs… and finally cracked the top 200 in the overall Games category. Back to testing the iPad/Universal version of the game.
Mar 15, 2014: A Dark Room is Ranked 6th Under RPGs permalink
For the past two days, A Dark Room has gotten ~200 downloads. I haven't done any recent marketing of the game to result in that kind of spike. True, the game made it into the top 10 spot a couple of days ago… but I didn't experience this kind of spike the last time it was there.
The only thing I can think of was that the web version of the game got 1000+ upvotes in an AskReddit thread: Reddit, what is a fun webgame I can sink a lot of time into?. Micheal mentioned that there was also an iOS version of the game within the thread comments… I still don't think it could have such an impact given that the comment was buried way way down in the post. Maybe it did… I have no idea.
Also. This dev blog was linked to in the following newsletters (I received emails and tweets from a couple of readers): RubyMotion Dispatch and TapFame's Newsletter. Again, I don't think that such a spike could come from these distributions (I may be wrong).
Regardless, it didn't last. A Dark Room's rank is back down to number 10 (/le sigh). The iPad update is in the App Store review process, and will hopefully be released to the public next week (and hopefully without that dreaded first day crash I experienced and still can't explain). Perhaps the combined downloads from iPhone and iPad will bring up the ranking again. From what I hear, getting into the top 5 in your category is a big deal… and from the looks of it you have to be bringing in over 200 downloads for a solid week to break into that spot number 5 (in the RPG category… no telling what you have to be bringing in to get a top spot in another category).
All I can really do is wait. I'm out of promo codes. I have no control over App Store ranking. Any amount of engagement I try to have on Twitter won't bring in numbers like what happend in the last two days. So I guess I'll geek out on something else for a while, and take a break for the next few days :-).
Mar 18, 2014: The Spike is Over. iPad Version Release permalink
The unexplained spike is over. Downloads are coming back down to "normal" levels. This morning I received an email that the iPad verison of the game is ready for sale. Of course, with every new release, I get a new set of promocodes, and all the reviews get "archived" (wiped out frankly, frustrating). From March 4th to today. A Dark Room received 85 reviews. One of them was a 4-star review, one of them was a 1-star review, the rest were 5-stars. The game was getting an average of 6 reviews a day.
With the release of the iPad version. A Dark Room will now be searchable on all devices with default search filters. I'm also hoping that the combined download numbers between iPhone and iPad will help bring A Dark Room's ranking back up (which is currently hovering around #17). The game did not crash when I installed it on my iDevices. This was a huge relief for me, and possibly something I can put behind me now… I'd be lying if I said I slept well these past few nights.
Mar 19, 2014: Mystery of the Week Long Spike Solved permalink
Last week there was a spike in A Dark Room's download numbers that I couldn't explain. Kevin Wade of OrgSync figured it out. It was because of Spring Break. A bunch of people with time on their hands came to the App Store and bought the game. A Dark Room's rank didn't increase in the App Store with this large week long spike in downloads, because every game was experiencing a similar spike.
This is also the first day after the iPad relese. Downloads are back to normal levels (a little over 100 a day). I didn't expect a big spike because of the iPad release. The game still needs to make it through the iPad ranking system (the iPhone rankings list is different than the iPad rankings list). From historical data, it looks like A Dark Room can make it into the top 20 in about a week. We'll see if my prediction holds true.
Also, the first day after a relase is always frustrating. When you push out a new release, you don't lose your rank in the app store, but you do lose all the reviews. So there sits A Dark Room, ranked #17 in the App Store, zero reviews, one boring screenshot, who will buy that? Thankfully, the trusty review button in the game pulled through again. I got twelve 5-star, and one 4-star review yesterday.
Mar 24, 2014: What Happened When A Dark Room Was Free for Two Days permalink
Spring Break (and the spike that came with it) was over… A Dark Room's ranking was falling. Part of this fall was related to the new release of the game (I think). This game has a huge risk every time a new version releases: previous reviews of the game get archived, which makes people, who've never experienced the game, hesitant in buying it. I was lucky to get twelve 5-star reviews the first day of the v1.5 release… it didn't look like it was enough to convince people to buy a game with only one screenshot, and a vague description. By the 19th, A Dark Room had 18 five-star reviews, but its rank had fallen to 28th in the RPG section.
At this point I decided that the game could benefit from a little bit of publicity, so I made the app free for two days. I've done this once before, the difference this time was A Dark Room was now equipped with a well placed review button. It was worth the risk of losing my app rank if it meant I could get a good surge of reviews.
For the 20th and 21st the app was free. I posted the announcement to Touch Arcade, reddit/r/iOSGaming, reddit/r/AppHookup, and Twitter. As expected, the game got a lot of love on all fronts. The "App discount" syndications also published that the app went free.
The combined downloads for the next two days was 13,997. The last time I did this, I received ~9,000 downloads. So it seems that these numbers weren't a fluke at all. This is actually the amount of downloads "top rated" free apps get on a daily basis.
The game (depending on how addicted the player gets), can be completed in 3 hours, or up to 3 days of casual play. So now it was just a matter of waiting to see if the review button was doing its job. I waited two days before drawing any conclusions.
Here is the download history for time the app went free (with a couple days before and after):
Mar 18th: 161
Mar 19th: 124
Mar 20th: 4,654
Mar 21st: 9,343
Mar 22nd: 221
Mar 23rd: 187
Again, I wasn't surprised that the downloads went back to their regular numbers after the sale was over. But, during that time period, A Dark Room received an additional 112 5-star reviews, one 1-star review, and one 2-star review. It seems like players either "get" the game or they don't… thankfully, the ratio is well in A Dark Room's favor. Also, it seems that even with the well placed review button, the conversion rate for reviews is about 1%… geez.
On the 18th, A Dark Room's iPhone and iPad RPG ranks were 28 and 71 respectively (and falling). The rankings were reset during the time period when the app was free (a risk I was well aware of). Today, A Dark Room's iPhone and iPad ranks are 16 and 40 respectively (and rising… so far). I'd say the two day sale was a success.
Mar 31, 2014: Attack of the Minecraft Clones, and a New Hope in the United Kingdom permalink
For the past two weeks, a certain "anomaly" has existed in A Dark Room's small part of the App Store. There are two games that have managed to take top spots in the RPG category: Skyblock - Survival Game Mission Flying Island (which I'll call Skyblock1) and Skyblock - Mini Survival Game in Block Sky Worlds (which I'll call Skyblock2). Skyblock1 and Skyblock2 hold the first and tenth spot in the RPG category. The average rating for both games are two stars.
I'm not sure what is going on here. I am well accustomed to the "I don't get it this is dumb" one-star review (I see that as a failure on my part by the way…). And here are two apps, that are in the top 10, and their reviews are mostly poor. Are the people that are reviewing this game, simply "not getting it"? Where are the reviews of people that enjoy the game?
As I've mentioned before, getting a top spot in rankings takes a consecutively high number of downloads, day after day. These games have been holding a top spot now for what looks like two weeks. These games are definitely bringing in a high number of downloads, but very few good reviews.
Is the Minecraft "franchise" simply that popular? Here is a list of Minecraft based games that are high ranking right now:
Skyblock - Survival Game Mission Flying Island (#1 spot, 2-star average)
Hunt Games - Mine Mini Survival Game with Blocks (#9 spot, 2-star average)
Skyblock - Mini Survival Game in Block Sky World (#10 spot, 2-star average)
Minecraft Skin Studio - Official Skins Creator for Minecraft (#12 spot, 4.5-star average)
Adventure With Companions - 3D Online Multiplayer Block Building Sandbox With Creative (#17 spot, 4-star average)
Minecraft Explorer Pro (#18 spot, 3.5-star average)
World Explorer - Made for MineCraft (#19 spot, 2.5-star average)
A Dark Room is currently ranked 20, with 220 reviews, average 5-star rating… in the United States.
A few days ago, I saw a small spike in downloads. I didn't think too much of it. Yesterday, there was a 300% increase in A Dark Room's downloads. This got my attention. I tried to make sense of why this spike existed. App Annie, a site I use to track this stuff, showed a disproportionate number of downloads in the United Kingdom App Store. After looking at rankings, I saw that A Dark Room was recently promoted to the #1 spot in the UK App Store. Not #1 RPG, not #1 Game, A Dark Room is currently the #1 app overall.
I don't have any details (yet) about what impacted this, or how many downloads this will translate to in the long run. One thing I've learned so far, you have to have tempered expectations. I've reached out to Cara Ellison and Leigh Alexander (editors in the UK) to see if they have any idea about what's going on. I'm still trying to connect the dots… trying to understand how this happened. I'll add another entry as soon as I do.
Apr 1, 2014: Day Two, at the Number One Spot, in the UK App Store permalink
A Dark Room has managed to stay number 1 in the UK App Store for March 30th and 31st (so far). Here are my observations:
Downloads have dropped 10% from D-day (March 30th). This was surprising given that when the app was free, the downloads were higher on day two.
The gains in the UK App Store don't seem to be influencing US sales. It may be too early to say this, but that's what I've seen so far.
Another observation (and I think this is unique to the game), is there is now a higher number of 1-star reviews. For the past two days, A Dark Room has received 59 5-star reviews and 38 1-star reviews.
If you've played the game, you know that the first part of the game has a slow reveal, and opens up "phase 2" only after you've bought the compass. I'm trying to put myself in the shoes of those that are in the UK. Here is a game… and it's the top app in the App Store. There is only one screen shot, a vague description and many of the review say the same thing:
A-MAZING - I don't write reviews. I find those "Rate this Game" popups extremely annoying. This game doesn't have those. Instead it waits until right at the end, after it has blown your mind, to ask for a rating. And for the first time ever, I felt obliged.
One of a kind! Superb - "I never write reviews," or "I hardly write reviews!" That's how all of the others have begun and if that doesn't draw you in then you shouldn't be on the App Store. This unique game has kept me entertained for hours on end
Wow! - Well where to begin, I read the reviews and not knowing anything about the game I took a punt on it and I'm glad I did! What a brilliant game!
;) - A brilliant game very addictive and interesting concept. I would highly recommend it
Fantastic - Really atmospheric, very minimalist: an rpg, a survivor sim, a text adventure. Absolutely brilliant and shows you don't need grafix to make a really absorbing atmospheric game.
I decide to give the game a shot. I pay money for it. Pressing the buy button is a very powerful gesture. It doesn't matter if the app I am buying is $1 or $100. The act of buying something in the App Store has become an exchange of trust, more so than an exchange of money. When I hit the buy button, I am putting trust in the developer, trust in the App Store to curate apps, trust in the reviews that they are accurate and true.
So here I am, a random person browsing the App Store, I may not even be a gamer, I may not even like RPG's. And here's this app, it's in the top spot, and I decide to give a token of trust. I open up the app, and am presented with a black screen, and a single progress bar. I press the "light fire" button, and the screen changes color. I play for 5 seconds?, 10 seconds?, 5 minutes? The "game" does effectively nothing, a few pieces of text comes onto the screen, the progress bar updates, some new buttons show up, leading to more progress bars, the screen changes colors… that's it?
I want immediate gratification for my trust, and I'm not getting that. My trust is short lived, since its being placed in the hands of complete strangers. I'm enraged, I'm so incredibly angry right now that I gave my trust to the developer, Apple, the reviewers, strangers, humanity… and I feel betrayed. So I leave a review to show my dissatisfaction:
Fake reviews - It's literally the most repetitive boring game. Was interested for about half an hour thinking it would get better but after a whole and giving it a chance, it just turns out it's pointless tapping
Bit of a scam - I bought this a week ago thinking the reviews looked positive. Now having played the game and read through further reviews I feel scammed. Poorly hidden "I don't usually write" fake reviews are littered everywhere.
SCAM!!! - Worst game ever!!! Don't buy it! Reviews are fake!!!
Awful! The worst! - his is the most awful game I have ever played ! It costs £0.69 which I would like back and it has fake reviews written about it by it's own company! DO NOT EVER BUY THIS "game".
Con Artist of 2014 award goes to - Well I don't usually write reviews either, but after reading the hundreds of reviews below I can only come to the conclusion that they were paid to do them….
When the game was in a quiet spot in the App Store, a lot of the downloads came from people recommending it word of mouth. You really couldn't find the game unless you specifically looked in the RPG section and scrolled down a couple of pages. When a real person, a friend, a fellow gamer, an esteemed editor recommends something to you… you give their recommendation more trust, and as a by product, you give A Dark Room more of your time.
The trust in the App Store, the trust in developers who develop products for the App Store is forever waning. And I can see the exhaustion and frustration that people feel (I feel it myself when I'm browsing for apps). And right now, that frustration is being directed to A Dark Room.
No, adding another screen shot or more details about the game won't help. One, because the game isn't visually appealing, and two, because I'm a stranger… I could be a scam artist that is putting up fake screen shots (I'm not of course). Most importantly, if I added any kind of hint to what was in the game, it would take away from the discovery that the player experiences. And I won't do that.
At this point, all I can do is wait. It takes anywhere from 3 hours to 3 days to beat the game and get a "review me" button presented to you. I have to put my trust in the player, and hope that they take the time to review the game, and show that A Dark Room really is something brilliant and unique.
As a consolation, I've got some chuckles out of the reviews, specifically this one:
Avoid - To summarise, I would actually rather be in a dark room, with nothing else is in it, until my untimely death before playing this app again. The endless time that is spent tapping could be spent building a time machine that would take you back to the time you pressed 'install' just so you can slap yourself in the face. Take your 70p and go purchase a lettuce and tap that, it would be more productive… And at the end you have a lettuce.
Apr 2, 2014: Day Three, at the Number One Spot, in the UK App Store permalink
A Dark Room has been in the top spot in the UK App Store for 3 days now. Downloads have fallen 56% from day two, but A Dark Room's rank still remains #1. From what I've observed so far, the rankings are heavily determined by the number of downloads you get (not the reviews). Given that the downloads are falling, this rank position may not last much longer.
I don't have enough data yet, but it seems like the rankings in the UK App Store are influencing the US App Store. With no noticeable spike in US downloads, A Dark Room has jumped to the #9 spot in the RPG Category and the 146th spot in the Games category. That is both exciting and terrifying. From what I've read, the US App Store market share is 5 times the size of the UK.
The reviews have a definite pattern. You either love the game or hate it. Here are the review number for yesterday:
5-star: 44
4-star: 3
3-star: 0
2-star: 1
1-star: 26
The reactions in the reviews continue to be visceral. Here are a couple:
Amazingly bad! - I lasted 30 seconds. I dont know what's worse, being charged more than a penny for this rubbish or reading the obviously faked reviews after purchasing or finding the developers epic long long long faked diary in making this 'game' that a 5 year old could put together. he also actually seems to believe that no one can review the 'game' without having completed it! Will be getting onto apple for a refund. Yes i can do that too!
Fraudsters!! - This game is awful. All the reviews are fake. The people behind this have broken the law as this is clearly fraudulent activity designed to get you to part with your money for false promises. Absolute disgrace. Pure theft. Pure criminality.
One person from the UK actually "called @ADarkRoomiOS out" on Twitter. Against my better judgement, I decided to engage with her. I'm glad I did. Conversation follows:
her - @ADarkRoomiOS what a con! Waste of money, I wish I could warn others the reviews are fake.
me - I'm truly sorry you feel conned. More info about the game here, please take a moment to read if you can: http://amirrajan.net/a-dark-room/
me - did you get a chance to read the development log I had put up with regards to A Dark Room and my sabbatical?
her - I'm sure the game is great; maybe it's just not for me. But all the best to you, and I hope your success grows.
me - I appreciate that, but perhaps put yourself in my shoes. Any ideas how I can communicate that it isn't a con?
her - hey look, don't pay attention to the likes of me. Keep creating and keep making the cash, I would do the same!
me - thank you… you're a part of A Dark Room's history now. In a good way. :-)
her - haha thanks! Maybe I should reinstall the app and uninstall my ignorance
Apr 4, 2014: The Fall From the #1 Spot in the UK App Store. Here Are the Final Numbers permalink
After four five days in the top spot of the UK App Store, A Dark Room finally dropped to the #2 spot. Observations:
You either love A Dark Room or hate it.
Once you make it to the top 5 of your category, things begin to pick up.
There doesn't seem to be any correlation between the UK and US App Stores.
The US App Store is definitely larger than the UK App Store.
Here are the final numbers leading up to the #1 spot in the UK:
| Date | Downloads (UK) | RPG Rank (UK) | Overall Rank (UK) |
| --- | --- | --- | --- |
| 3/22 | 40 | 10 | 403 |
| 3/23 | 58 | 6 | 333 |
| 3/24 | 38 | 6 | 337 |
| 3/25 | 36 | 5 | 277 |
| 3/26 | 47 | 3 | 211 |
| 3/27 | 108 | 1 | 100 |
| 3/28 | 296 | 1 | 29 |
| 3/29 | 1088 | 1 | 5 |
| 3/30 | 5959 | 1 | 1 |
| 3/31 | 5037 | 1 | 1 |
| 4/01 | 2812 | 1 | 1 |
| 4/02 | 2654 | 1 | 1 |
| 4/03 | 2195 | 1 | 1 |
Here are the US numbers:
| Date | Downloads (US) | RPG Rank (US) | Overall Rank (US) |
| --- | --- | --- | --- |
| 3/22 | 125 | 21 | 636 |
| 3/23 | 109 | 20 | 573 |
| 3/24 | 83 | 20 | 643 |
| 3/25 | 88 | 20 | 605 |
| 3/26 | 106 | 19 | 604 |
| 3/27 | 82 | 22 | 774 |
| 3/28 | 100 | 21 | 637 |
| 3/29 | 117 | 24 | 719 |
| 3/30 | 140 | 20 | 623 |
| 3/31 | 103 | 16 | 560 |
| 4/01 | 127 | 12 | 468 |
| 4/02 | 181 | 7 | 314 |
| 4/03 | 176 | 6 | 242 |
During the 5 days at the top spot, users of the UK App Store gave A Dark Room the following ratings:
5 stars: 195
4 stars: 17
3 stars: 2
2 stars: 6
1 stars: 94
As for the reviews, I'd be lying if I said that I wasn't affected emotionally by people claiming that A Dark Room was a scam and I was a con artist. There were three individuals on Twitter that actually called out A Dark Room publicly. I addressed each tweet individually, exercising an extreme amount of empathy. Each person ended up retracting their statement about A Dark Room and apologizing (one even said that they'd give A Dark Room another shot). If anything, this was preparation for what will come if I make it to a top spot in the US App Store.
Apr 9, 2014: #1 RPG, #5 Game, #10 App, in the US permalink
Here we are. Ten days after A Dark Room made it to the #1 spot in the UK. This morning, A Dark Room is ranked #1 in the RPG category, #5 in the Games category, and is the #10 app, overall. I still have no idea what's happening. I don't know definitively whether the buzz in the United Kingdom somehow caused the same kind of viral outbreak in the United States.
But (so far) the trends are holding. As soon as A Dark Room hit the #1 spot in the RPG category, a snowball effect occurred (similar to what I saw in the UK). If you look at the rank progression in the UK, you'll notice that A Dark Room hit the #1 spot overall, three days after it became #1 in the RPG category. A Dark Room hit the #1 RPG spot, in the US, late on April 6th… which makes day number 3, today. I doubt it'll jump 10 spots in one day, but it's worth noting how similar the trends are.
Outside of impacts associated with being #1 in the UK. The following may have given A Dark Room more steam in the United States.
As soon as A Dark Room hit the #1 spot in the UK I reposted what I wrote here on /r/gamedev: What happens when your iOS game goes viral and becomes the #1 app in the UK App Store. The post received 200 up votes, and there were many good conversations to be had.
Out of sheer luck. A Reddit user asked the following question on /r/askreddit, which Michael ended up responding to: Has anyone here ever built a $20 or $40 desktop application, or $0.99 to $5 mobile app, and made real money from it?. The question received 1159 upvotes, and Michael's response was the top comment.
Around this same time, a review site, that I reached out to a couple weeks ago, gave A Dark Room 3 stars (the review said mostly good things about the game, so put your torches and pitchforks down): 148Apps - A Dark Room Review
That's all that's happened as far as I know. A Dark Room has dropped to #5 in the UK. Downloads are still dropping and haven't leveled off. Positive reviews out score negative reviews 3 to 1. Given what I've seen in the UK, if A Dark Room does indeed hit the top spot, it won't stay there for long.
Apr 15, 2014: #1 in the App Store permalink
A Dark Room iOS finally clawed its way to the #1 spot. It happened on April 13, 2014. It took seven, very long days to make it there from the #1 RPG spot. I was in shock when it passed Mine Craft in the rankings. I literally gasped out loud when it passed Monument Valley. I laughed sinisterly when it took down RBI Baseball 14 (an officially licensed game of the MLB). This marks the third day at the #1 spot.
The trends in the United Kingdom should give an indication as to what will happen in the US. Here are some observations and predictions:
The US App Store market is a little over 3x the size of the UK (not 5x).
iPad sales have been insignificant relative to iPhone.
Not a single major gaming website has done a piece about A Dark Room (yet).
The reviews in the US have been overall positive! (a ratio of 9 to 1 as opposed to UK's 3 to 1)
A Dark Room will fall out of the #1 US spot very soon.
It'll see a 20% drop in downloads, day over day, until it levels out.
It'll take ~25 days for this "leveling" to occur.
In the UK, A Dark Room is currently ranked #12. It seems that the game has finally leveled out (or at least the fall has slowed down considerably). A Dark Room is averaging 400 downloads a day over there.
I'll of course continue to post new observations as soon as I have more data. Also, there is going to be another unique update to the game that may cause another viral out break (probably not, but I can hope).
tl;dr; I won't be able to retire on the revenue A Dark Room is generating (not by a long shot), but it'll definitely extend my sabbatical.
---